Product Description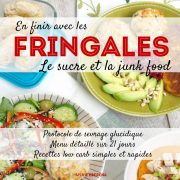 En finir avec les fringales, le sucre et la junk food. Ebook PDF téléchargeable
25.00

€
Getting rid of cravings, sugar and junk food. Downloadable PDF eBook.
25.00€
« Getting rid of cravings, sugar and junk food »
Downloadable PDF eBook, 78 pages.
Carbohydrates detox protocol, 21 days meal plan, 18 easy low carb recipes.
After purchase, you will receive a confirmation email with the link to download your ebook. If necessary, please check your spam folder.
Email to a friend
Description
Description
After several years of creating health challenges and coaching people online and offline, the conclusion makes no doubt: sugar (and more generally speaking, carbohydrates) addiction is far from being an isolated problem. On the contrary, most people who seek my help suffer from this issue, and some are not even aware of it because this addiction has many symptoms. Cravings for fatty, salty or sweet foods, at day or at night, emotional eating, difficulty losing weight, chronic fatigue, mood swings, lack of productivity, and many more…
In addition to being a very common problem, it is also a logical consequence of our modern diet and lifestyle. It is much more than a simple lack of motivation. You must not feel guilty and you should be aware that you can't control everything in such a configuration, even with the greatest will.
Although part of the problem may be psychological, a large part of the equation is physiological and that's good news: carbohydrates addiction, no matter how old and intense, is not a fatality! The most important thing is to understand the reasons for this addiction and the actions you should take to improve the situation.
That's the main reason why I decided to provide you with the carbohydrates detox diet I use for my personal online coachings. The goal is to help you understand the mechanisms of carbohydrates addiction to be able to curb it.
As usual, we have to start with the theory, this will be the first part of this eBook. I also provide you with a 21 days detailed meal plan as well as quick and easy recipes to help you switch from theory to practice easily.
Carbohydrates detox should not be considered as a temporary diet, but as a stepping stone to a healthier lifestyle over the long term. That's the spirit of this program and I hope you will experience its beneficial, long lasting and positive effects.
Avis (1)
Conditions générales de vente
Consulter les conditions générales de ventes ici : CGV